SIP Trunking
What is SIP trunking from Triad Telecom? SIP trunking is an IP replacement of a traditional, copper telephone line. SIP trunks use your internet connection to transmit voice communications. With SIP trunking, you keep your existing on-premise phone system while saving money on your telephone lines and creating a more efficient method of business communication with disaster recovery built in.
SIP trunking eliminates the need for traditional analog, T1, or PRI lines and moves your business into the advanced world of IP communications.
Our SIP trunking allows you to preserve your investment in your phone equipment while easily upgrading to cloud based services. You can take advantage of solutions such as our optional advanced call recording feature to record and store calls, and easily access them when needed.
In the event of an emergency, power failure, or loss of internet service, calls can be rerouted to another location, a cell phone or voicemail to maintain business continuity.
Triad's SIP trunking is delivered over a carrier-class network to ensure crystal clear HD sound quality.
Pursue a cap and grow strategy by networking your on-premise phone system with our hosted PBX solution. You can add new users to the hosted solution to stop capex investment in hardware that is possibly nearing end of life.
Contact us today to harness the power of SIP trunking and create a better connection for your business communications that is flexible, cost-effective, and future-proof.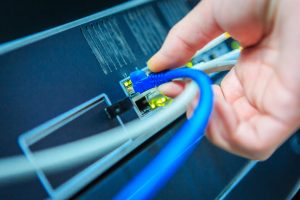 We consolidated more than 90 offices onto a single bill and are saving in excess of 60% monthly. Thank you Triad Telecom!"

Insurance Agency
The ability to provision and port numbers for remote offices without having to purchase additional phone lines is simply amazing!"

Manufacturer
Not only did Triad Telecom simplify our carrier management, they provided us with the redundancy that our disaster recovery plans were missing. Thank You!"

Application Service Provider